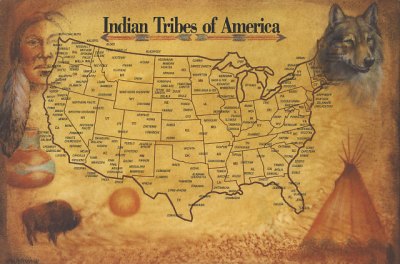 Click on map to see larger map.
My love of Native Americans and Wolves
In 1993 after graduating with my Masters Degree
I could not work because of my heart. So I started
reading Historical Romance Books, thanks to my
daughter. I have always hated history and when
I started reading I did not think I would like
these books at all until I started reading the
Native American one. The history in these books
is fantastic. They tell of the history of Treaties,
the lives of this great people and how they went
from having the land we live on to being run off
of it and murdered. The great names of many
Chief's and the men who were behind this great
lose of life and culture. The history tells
how these people lived, their religion, their
love of family everything there is to tell...
Today I have over 400 of these books and read
all of them. In reading them I started finding
pictures of this great people. On the internet
I found more and more beautiful artwork that
was done by some of Native American artists.
Not only the Native American pictures but the
Wolf pictures are done by them.
My love of this Great Race of People extends
also to the Wolf. When I fell in love with
the People I also fell in love with the Wolf.
It is like a magnet that draws me to them...
So here you will also find some beautiful
pictures of them too.
I hope you enjoy the pictures and words as much as I have.
Started..... July 4, 1998. Please bookmark my page and come back.
Thank you for coming..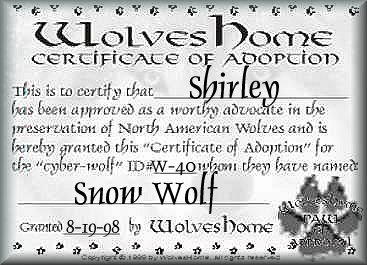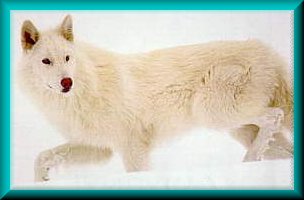 My adopted Wolf: Snow Wolf
Help save the wolf.
See the links at Do you know.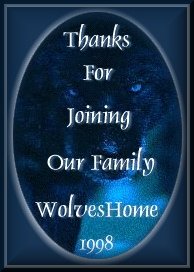 Thank you Wolves Home.
On these pages see not only the Art of Native Americans
but also read the story of Ira Hayes and the Indian
and Cherokee 23rd Psalms.
A note about the graphics on my pages..
In most cases the name of the artist will be with
the picture or graphic. In some cases and only
because I have seen more than one site using the
same graphics, a list of sites will be on my links
page. In most cases I have found the original artist.
So if you see a graphic on my pages that does not
have a name then look on the links page. It is sad
that some of the graphics are used on pages and
the artist is not given credit. But I can not put
5 to 10 links for one graphic.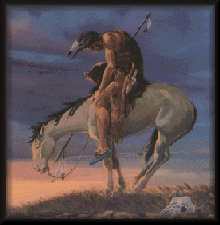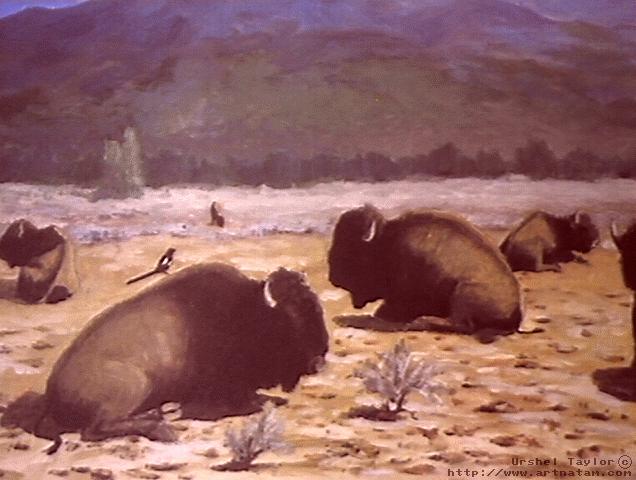 DO YOU KNOW WHAT
THE INDIAN, THE WOLF,
THE EAGLE AND THE BUFFALO
HAVE IN COMMON???