As a girl I remember stories about Ira Hayes. Johnny Cash has a song "Ira Hayes" about the Pima Indian that went to war. Here is the picture and story of Ira Hayes.
IRA HAYES
by Urshel Taylor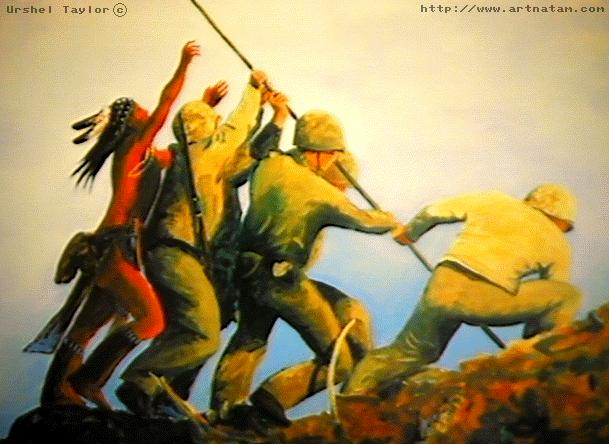 Old Glory Goes Up On Iwo Jima, Mount Suribachi, Feb. 23, 1945. Ira Hayes is a Pima Indian From Gila River Reservation Arizona. I am Pima Indian from the Salt River Reservation , north of Gila River. I am also a former Marine that spent many year's over seas but I never went through the battle Ira Hayes went through.
IRA HAMILTON HAYES 1923 - 1955
Ira Hamilton Hayes is a full blood Pima Indian and was born in Sacaton, Arizona, on the Pima Reservation on Jan 12, 1923. His parents Joe E. and Nancy W. Hayes were both farming people.
Ira Hayes was a noted World War ll hero. Although he had a normal childhood on his reservation, his life changed dramatically when war broke out and he joined the Marine Corps. After he completed courses under the U.S. Marine Corps Parachutist School at San Diego, California. He was lovingly dubbed "Chief Falling Cloud." Ira Hayes was assigned to a parachute battalion of the fleet Marine Force.
By the beginning of 1945, he was part of the American invasion force that attacked the Japanese stronghold of Iwo Jima. On Feb. 23, 1945 to signal the end of Japanese control, Hayes and five other's raised the U. S. flag atop Mount Auribuchi on the island of Iwo Jima. Three of the six men were killed while raising the flag. This heroic act was photographed by Joe Rosenthal, and it transformed Ira Hayes' life for ever. Subsequently a commemorative postage stamp was created as well as bronze statue in Washington DC.
President Franklin D. Roosevelt called the brave survivors of the flag raising back to the United States to aid a war bond drive. They were shuttled from one city to another for publicity purposes with questionable sincerity on the part of the American military. Ira Hayes asked to be sent back to the front lines, stating that "sometimes I wish that guy had never made that picture".
At the conclusion of World War ll he returned to his reservation, disillusioned by what he felt was unwarranted adoration. He began to drink heavily resulting from well-meaning friends offering drink's in their appreciation of his "Heroism".
He was never able to get his life back in balance again. Ira Hayes died of exposure at the age of thirty-three on Jan, 24th 1955. He was memoralized by the Pima people and characterized as "a hero to everyone but himself". He is buried in Arlington Cemetery. He never married.
Order information below.
Title: The Real Ira Hayes
Type: Oil Print
Order No.: N-UT008

Edition: Total of 1,000
Signed & Numbered Print - $60
Print Size: 32 Inches x 27 1/4 Inches
Image Size: 28 Inches x 23 1/4 Inches
Post Cards
12 per order - $24.00
Shipping $4.00
Order From:
Urshel Taylor's Owl Ear Studio
2901 West Sahuaro Divide
Tucson, AZ 85742
8 a.m. to 9 p.m. MST (520) 297-4456 - Orders ONLY: (800) 487-0180
E-Mail: urshel@artnatam.com
Shipping and Handling $7.50 per Order.
American Express Credit Card * Pre-Paid Checks * Money Orders Accepted.